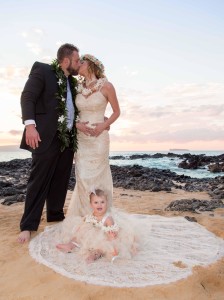 Aloha Everyone,
Inviting children to a wedding can become a heated discussion when you are at home. However, at a destination wedding, the answer is Yes. People are traveling a great distance to come to your wedding. Most of them will probably want it to be their family vacation. Why not let them enjoy your wedding as a family too! There are excellent licensed babysitters in the hotels if its going to be way past a child's bedtime so there is a way to keep them comfortable too. Otherwise, the more the merrier!kissing with baby on dress
The children we have had the privilege of meeting at Maui Aloha Weddings have added joy not only to the Bride and Groom and their families, but definitely to our photographers as some of the best pictures turn out to be of the children. We are not saying to invite everyone and their children but definitely your family members. You can also decide on the ages of the children to be invited. If they are old enough to stay home (in their 20's), you need not invite them unless you want to. For parents whose children are younger and they would have to make arrangements for them, it would be easier and nicer to invite them. Then again, I remember going away and leaving my children who were in their 20's and found out that they threw the bash of the year! Think about who can stay home and be responsible too.
The general rule of having ring bearers and flower girls are having children between the age of 3 and 7. Any younger and they usually do not make it down the aisle. Any older and you can actually have them as junior bridesmaids and ushers. Usually, bridesmaids and ushers are from 18 years old and up. You can also use these rules to help with the question "do you need a flower girl"? The flower girls and ring bearers are invited to the reception.
Don't get caught up in "why wasn't my child invited" because this is your wedding and your decision. Before the invitations
go out, politely tell your guests that you cannot invite everyone and this will not be a kid
friendly wedding. Do make it really clear who is invited so not one assumes and brings extra guests. If you are inviting the children, include on your invitation "Mr. and Mrs. X and Family". There really isn't a nice way to say "oh they can come to the ceremony" – just don't say they are invited at all. Although this is off the point, have no bad feelings about inviting single guests without a significant other. It may seem not polite but everyone should understand the expense and they can always send in their regrets if they don't want to come alone. This doesn't really happen when you are having a destination wedding as chances are people are not traveling alone.
When planning a reception with kids, try to keep the families altogether in one spot. Couples do look at a wedding as a time to go out and enjoy the company. They don't need to mingle with children of friends during that time. Do make sure the children sit with their parents and not alone at a table unless they are older teens and can be trusted.
By all means, make sure your venue offers a child's menu. Children have smaller appetites and don't usually like the same food as adults at a wedding. Children's meals will be a fraction of what you will be paying for the adults plates.
Let them dance as it will be one of the highlights watching them! But since they have short attention spans, perhaps have goodie bags with some things for them to do color, puzzles and small games to also entertain them. The goodies are inexpensive and when they get tired of dancing they won't be interrupting those that are having fun on the floor.
Much aloha,
Peggy